Things Seen Along the Way: BMX Freestyle 1994-2014 — Hardcover Book
$

84.00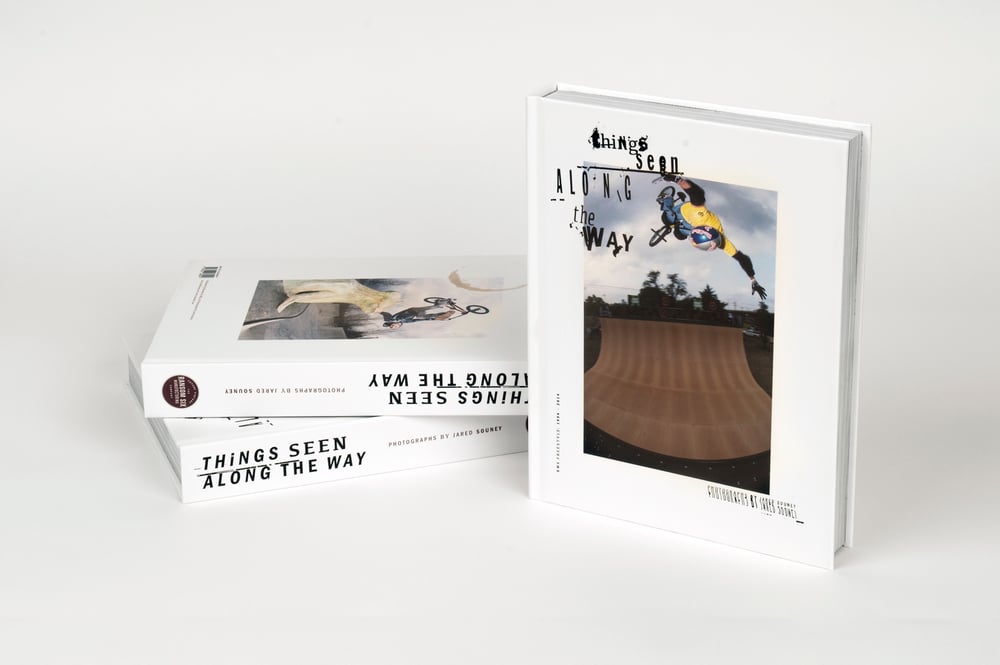 Buyers outside the US and Canada: Please email for an accurate shipping quote specific to your location. [email protected]
All Photographs by Jared Souney
404 Pages (including covers). Hardcover. 8.5x11" with full-color printing throughout. 80 lb. uncoated stock.
This is the Second Edition (or second printing) — The first was a limited edition of 250, and featured Joe Rich on the cover... that printing sold out quickly in 2020, so I've decided to do a reprint. If you have the 2020 First Edition (with Joe on the cover) this is the same book you have, with a new cover and slightly different paper. The second edition features a new cover image (Kevin Robinson).
Featuring more than 360 photos, Things Seen Along the Way includes a selection of photos, taken over a twenty year period, all centering around BMX bicycle freestyle. With the exception of the intro, this book focusses on the images in a coffee table / photo book style, so there's a lot of visual action, and not much reading. Mid-school BMX images of influential riders like Dave Mirra, Jamie Bestwick, Kevin Robinson, Bruce Crisman, Chad Kagy, Taj Mihelich, Joe Rich, Chase Gouin, Brian Blyther, and many, many more.
Jared Souney is the former Associate Editor / Photographer for Ride BMX Magazine (1999-2001), and has since contributed to magazines and media outlets around the world, including BMX Plus, Freedom BMX, Chase BMX, Transworld BMX, Snap, Ride UK, Dig, ESPN, Sports Illustrated, The New York Times, and many others, both as a photographer and writer. The book includes a selection of both published and unpublished photos.
"This book follows the BMX that I lived for the last several decades, focusing on the period which I was most involved in producing content. These are friends I made along the way."
ISBN: 979-8-218-08450-9
Share